About our School
The School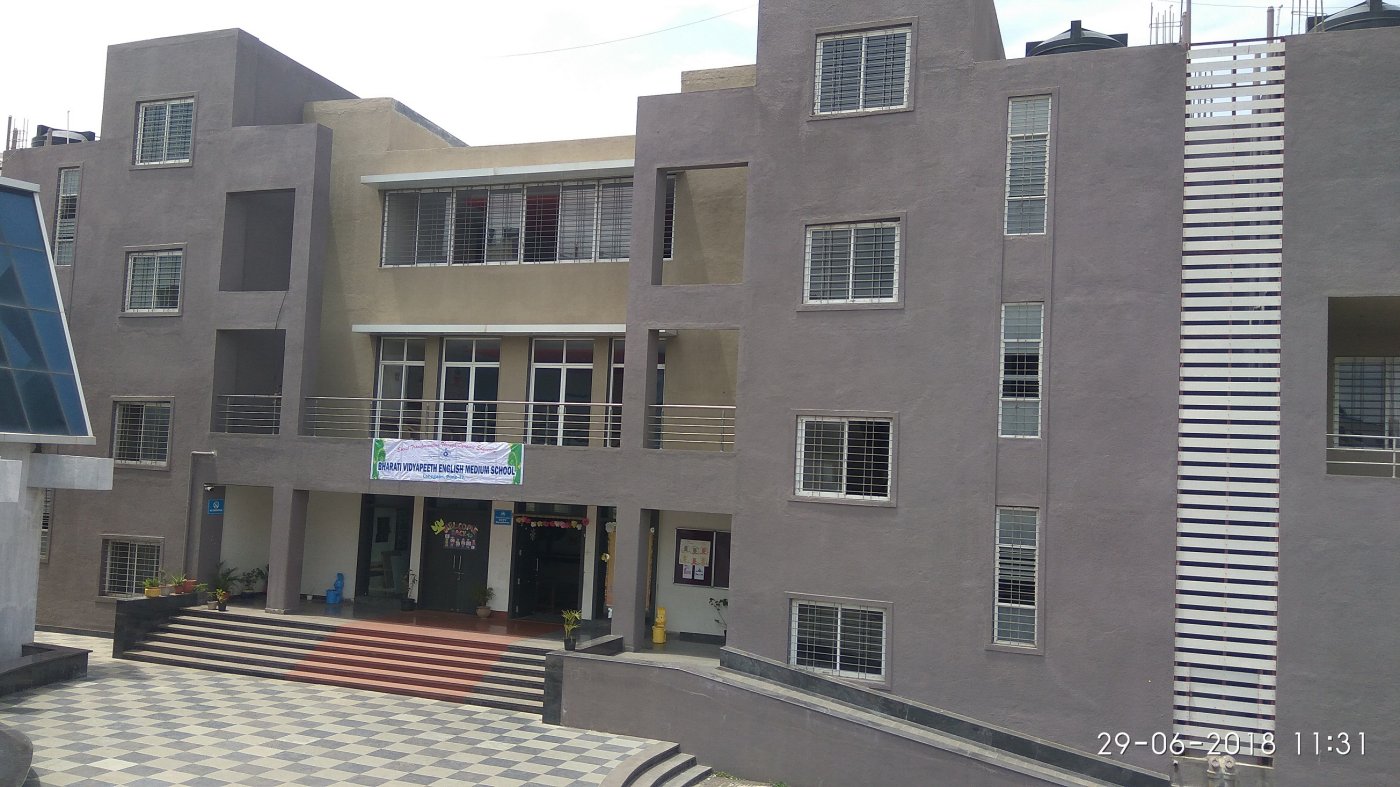 Bharati Vidyapeeth English Medium School Lohegaon was established in the year 2013 with an aim to enrich the minds of the students with the knowledge that would make them competent to face the new, progressive world. The school is secular and strives to provide excellence in Academics and enjoys a well deserved reputation for excellence in teaching and quality education.
It is the dream realization of Hon'ble. Dr. Patangraoji Kadam, whose multi faceted experience in various walks of life has materialized in the formation of the school. A Board of eminent personalities and handpicked faculty bring their unique inputs and sights into the running of the school. The school has always been striving for its quality. Under the able guidance of Hon'ble Mrs. Vijaymala Patangrao Kadam and the leadership of Hon'ble. Dr.Vishwajeet Patangrao Kadam its popularity resulted in the increase of the strength within few years. The school is glittering with flying colours within a short span of time.
Vision
"Social Transformation Through Dynamic Education"
Mission
In the next three years school will help students to enhance their communication skills (in English) by conducting activities for improving vocabulary, listening standard English, reading, workshops and competitions to enhance creative writing and creating environment in school to speak in English.
School Motto
"Nurturing the Masterminds of Next Generation "
The motto keeps the school staff going for the betterment of its students and it provides an atmosphere that is very enthusiastic, energetic, motivating and encouraging at all times. The teaching and non teaching is very hardworking and very dedicated and strives hard delivering 100%. It is the future of our students that holds utmost priority in Bharati Vidyapeeths School, Lohegaon.The school has very bright future and promises great amount of growth and progress for the years to come.
Salient Features
Salient Features
Natural and Pollution free campus
Well planned building with well equipped laboratories, library, play ground and computer facilities
Highly qualified, experienced and dedicated staff
Teacher Student Ratio 1:40
Special coaching in Music, Dance, and Karate
Special training for Competitive exams and Scholarships
Medical Check up for every student in the school
School Management Committee
School Management Committee
| | | |
| --- | --- | --- |
| S.No. | Name of the Member | Designation |
| 1 | Hon'ble Mrs. Vijaymala P. Kadam | Chairman |
| 2 | Hon'ble Mr. Vasantrao B. Mhetre | Member |
| 3 | Hon'ble Prin. Dr. Kakasaheb D. Jadhav | Member |
| 4 | Hon'ble Dr. Mahadev S. Sagare. | Member |
| 5 | Hon'ble Mr. B. B. Kad. | Member |
| 6 | Hon'ble Dr. Ravinder Panwar | Member |
| 7 | Hon'ble Mr. Mahadev D. Kadam. | Member |
| 8 | Mrs. Vaishali Kasar | Teacher Representative |
| 9 | Mr. Dattatray Mane | Non-Teaching Member |
| 10 | Mr. Ajay S. Landge | Secretary |
Staff Information
Teaching Staff 2021-22
S.No.
Name of the Employee
Designation
Qualification
Experience
(years)
High School
1
Dr. Vaishali Girish Chavan
Principal
M.A. B.Ed. Ph.D. (English)
18 yrs
2
Mrs. Reema Baliram Nikam
TGT
M.Sc., B.Ed.
17 yrs
3
Mrs. Anamika Rajeshwar Durge
TGT
M.A. B.Ed.
12 yrs
4
Mrs Purkar Sulakshana Pandit
TGT
B.Sc. B.Ed
19 yrs
5
Mrs. Gupta Sakshika Dhiraj
TGT
M.Sc., B.Ed.
4 yrs
6
Mrs. Rashmi Parag Hore
TGT
M.A. B.Ed.
3 yrs
7
Miss Vidhatri Choursia
TGT
M.Sc. , B.Ed.
10 mths
Primary School
1
Mrs. Virinder Kaur Malkit Singh Barmota
PRT
B. Com. B.Ed.
33 yrs
2
Mrs. Nilima Chaitanya Dhamdhere
PRT
B.A. B.Ed
20 yrs
3
Mrs. Vaishali Dattaray Kasar
PRT
M.A. B.Ed.
17 yrs
4
Mrs. Rajni Prashant Chawla .
PRT
A.T.D. GD ART Dip. A. Ed
17 yrs
5
Mr.Kamle Pravin Bhanudas
PRT
M.A. B.Ed
14 yrs
6
Mr. Abhijit Kamalakar Kalyankar
Music Teacher
SSC, Tabla Visharad
22 yrs
7
Mrs. Gandhi Navpreet
PRT
M.Sc. B.Ed
8 yrs
8
Mr. Ganesh Prabhakar Supekar.
PRT
M.Com. M.PEd
7 yrs
9
Mrs.Kirti Manikrao Dhamale
PRT
B.C.S. M.Sc. B.Ed.
7 yrs
10
Mrs. Ashwini S. Salunkhe
PRT
M.A. M.Ed.
6 yrs
11
Mrs. Sarika Vilas Galve.
PRT
B.A. B.Ed., D.Ed.
5 yrs
12
Miss. Amandeep Kaur
PRT
M.A.B.Ed
4 yrs
13
Mrs. Pinki Singh
PRT
M.Sc. B.Ed
4 yrs
14
Miss. Nayana Laxman Take
Health & Wellness Teacher
M.A. D.Ed
3.9 yrs
15
Mrs. Sampa Ghosh
PRT
B.A.
3.9 yrs
16
Mrs.Trupti Jane
PRT
M.A. B.Ed
3.9 yrs
17
Mrs. Akanksha Mishra
PRT
B.A. B.Ed.
2 yrs
18
Mrs. Archana Soni
PRT
Masters Info. Tech, B.Ed.
5 yrs
19
Mrs. Kinjal Pujari
Music Teacher
Master of Performing Arts
2 yrs
Pre-Primary School
1
Mrs. Sukjeet Rinku Arora .
K.G. Teacher
BE NTTC
4.9 yrs